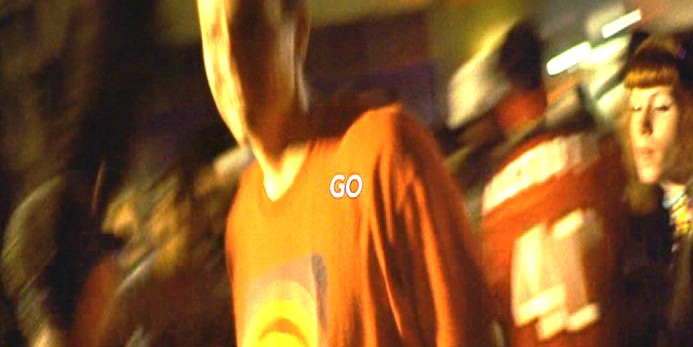 Vissza a mozi főmenübe Tovább a képek 1. részéhez
Rated R for strong drug content, sexuality, language, and some violence.
Három epizódot láthatunk mai amerikai fiatalokról. A szupermarket pénztárosnője, Ronna (Sarah Polley), totál le van égve, ezért elhatározza, hogy exstasy-t fog árulni. De a tabletták terítése veszélyes és bonyolult feladat. Izgatottan nézzük, hogy manőverezik a kicsike a dealer szerepében. És persze végig dübörög a zene. De azután kienged a feszültség. A második epizódban négy drogos ámokfutását látjuk Las Vegasban. Sok vér, egy kis dugás, egy kis autós üldözés, pörgés - igazi komédia. A harmadik rész igazi flash-back: két meleg szappanoperasztár titkosrendőri ügyködését követhetjük nyomon. Ronnát, a film elején megismert dealert kell lekapcsolniuk, de a bőrkabátos srácok nincsenek igazán otthon a farkas szerepében. Hogy ez a történet a valóságos állapotot jeleníti-e meg vagy sem, mindegy. Lényeg, hogy jól szórakozzunk.
A teen Pulp Fiction from the director of Swingers? Though it sounds painfully high-concept, Doug Liman's Go is an adrenaline-fueled joyride about Gen-Y slackers in crisis. The film features a pulsating techno soundtrack and a cast of hot young actors who rise exuberantly to the occasion; they seem as relieved as we are that they're not stuck in a generic teen slasher pic. John August's script is exciting, witty, original material, and this film's got the talent to match.
Set over the course of 24 hours in L.A. and Las Vegas, Go crisscrosses three interlocking stories of wild and desperate 20-somethings. It's Christmastime, but nobody seems to be enjoying the seasonal jollies. Ronna (Sarah Polley) is a jaded 18-year-old supermarket clerk who takes a second shift as a favor to her horny British co-worker Simon (Desmond Askew). Hard up for some extra cash, Ronna tries selling Ecstasy to a couple of TV stars (Jay Mohr, Scott Wolf) on the side, but the deal gets botched. The dealer (Timothy Olyphant) is pissed, and the only collateral Ronna has to placate him until she can pay him back is her pal Claire (Katie Holmes). Meanwhile, Simon is in Vegas with his partying pals (Taye Diggs, Breckin Meyer, James Duval) and somehow finds himself setting a hotel room on fire, stealing a Ferrari, and heading out on the lam. Everything kind of intersects at a huge underground rave dance party, and no one's life will ever be quite the same.
Go's wildly winding plot features all kinds of surprises — from an impromptu Macarena dance number to Tantric sex to Amway-obsessed entrepreneurs — without ever losing steam. Liman's latest is even better than his last, the terrifically witty Swingers. Go's pacing never flags — at least not long enough to let the audience ponder some of the film's more recycled elements from sources as diverse as Tarantino and American Graffiti — and it's a visual delight. Thankfully, Liman is also generous with his actors; there's not a weak performance in the entire ensemble, and everyone gets an opportunity to shine.
Primetime pinups Katie Holmes (Dawson's Creek) and Scott Wolf (Party of Five) show considerable new range, while Desmond Askew and Nowhere's Nathan Bexton score the biggest laughs. Character actor William Fichtner (who's played such diverse roles as Jodie Foster's blind astronomer pal in Contact and a sleazy white-collar criminal in Heat) and Ally McBeal's Jane Krakowski are hilarious as a seemingly swinging married couple, and Scream 2's Timothy Olyphant is menacingly sexy as an amoral drug dealer. But the real star here is Sarah Polley (The Sweet Hereafter), a waifish Canadian actress who's a lot tougher than she looks. Her Ronna is the matter-of-fact ballsy center of the film; there's nothing sweet or endearing about her, yet we love her because she takes care of herself (well, sort of) and holds her own nervy ground in this dangerous world of narcs and gun-toting crazies. Go perfectly captures the transient thrill of being young and foolish.
--Kevin Maynard
Rated R for strong drug content, sexuality, language, and some violence.